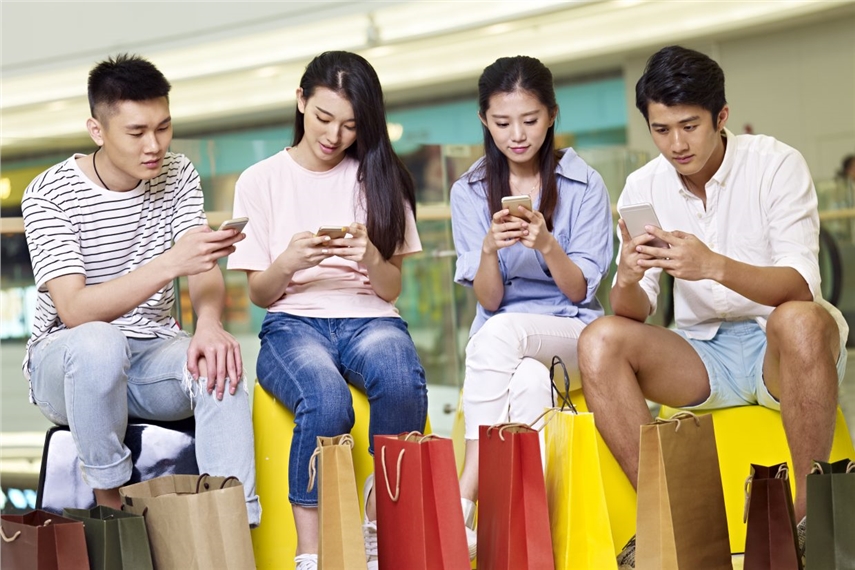 Source: www.campaignasia.com
Are you losing your younger audience? According to a study by eMarketer, more young people are turning away from Facebook to Instagram. eMarketer analyst Oscar Orozco sites Instagram's success as its ability to align the system "with how young people communicate- through visual content". Indeed, to a generation with a shortening attention span, images that can be perceived in a single sweep are infinitely more appealing than lengthy, unanimated text.
According to The New York Times, Instagram earns 100 million users per 9 months. In 2017 alone, its user base grew to an astounding 600 million users from 500 million within just six months.
Instagram's speed of change is extremely rapid for a network of its size. As a result, it significantly changes the users' daily experience. However, many experts see this as a plus point. Instead of alienating its audience, these changes are seen as new methods of communication that greatly foster self-expression. To business owners, Instagram's forward-looking attitude in pursuing engagement is exactly what they need from an advertising platform.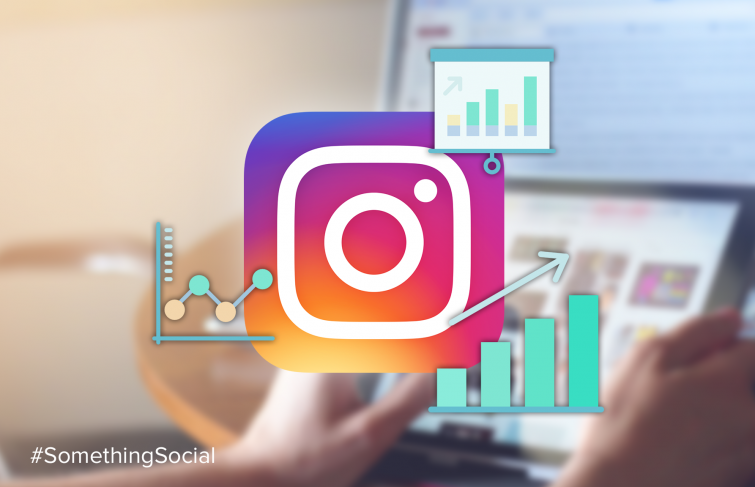 Source: http://blog.gnackapp.com
Why Instagram and what's in it for you?
Attention is the new currency. To businesses, such vast pools of users are viable sources of attention that their services and products can appeal to. Indeed, the reach and engagement of Instagram is impressive. In a research undertaken by Dreamgrow, it was shown that Instagram boasts of around 500 million daily active users, with 80% of these users outside its country of origin, the U.S. Such reach translates to increased visibility for brands.
Moreover, quality accompanies quantity on this platform. Instagram users are proven to be highly engaged, publishing more than 95 million images and videos per day, that earn a staggering 4.2 billion likes on average within each 24-hour time span. Such stellar results have allowed Instagram to beat even Facebook in terms of audience engagement.
Here, we've gathered some tips on how you can jump on the Instagram bandwagon.
Preparation stage
Firstly, determine the business objectives you hope to achieve through Instagram. What's the purpose of your account? Is it to boost product sales, to increase brand awareness, or perhaps both? With these goals in mind, a content strategy has to be formulated, one that includes the frequency of posting, the content of your posts, and the style in which they are conveyed to your audience. Your content strategy should be closely informed by your business objectives and corporate image in order to present a coherent identity and clear voice.
 Impeccable presentation skills to firm up a strong brand name
A picture speaks a thousand words. Visual consistency is also the secret behind top brands who use Instagram. This does not refer to monotonous or lacklustre profiles, but rather, a series of professional, curated, high-quality images that tell a single compelling story. These brands achieve consistency by presenting their photos with similar filters, in specific shooting mode, or captions that are unique to them. This makes their posts stand out in a sea of images in a user's newsfeed.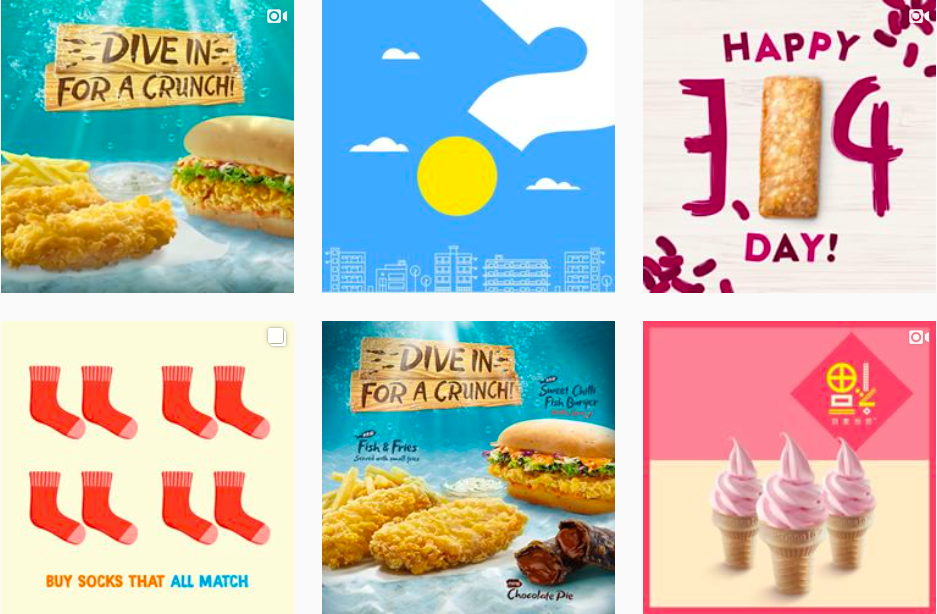 Source: https://www.instagram.com/mcdsg/?hl=en
For example, the employment of vibrant colours, clean lines, simple silhouettes and simple phrases presents Macdonald's as a place of simple pleasures. The lively artwork and incorporation of cartoon portray Macdonald's as a child-friendly playground, appealing greatly to families with young children.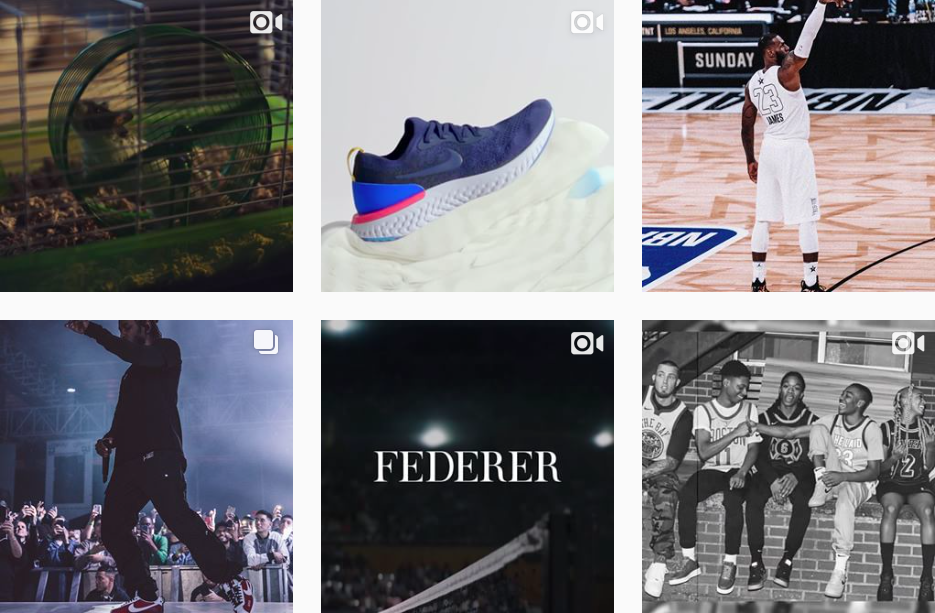 Source: https://www.instagram.com/nike/?hl=en
On the other hand, Nike's style of presentation is an exhibition of youth culture at its best. While the hamster on a treadmill looks like an image on a humorous meme, pictures on the bottom left and right showcase hip-hop and leisurely youths. These images of pop culture correspond with the envisioned lifestyle of relaxation aspired by many youths, entrenching Nike as a leading sports and lifestyle trendsetter.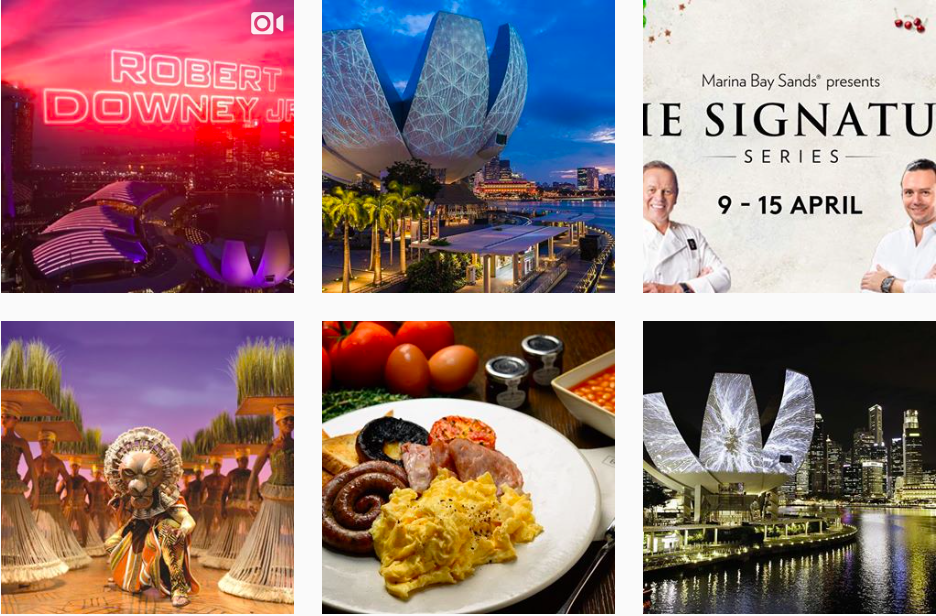 Source: https://www.instagram.com/marinabaysands/?hl=en
Fine dining, beautiful cityscapes and spectacular live performances galore. These images promote a luxurious lifestyle that would draw the attention of the high-power spenders in the society. The visual showcase of captivating experiences also plays well with the tourism board's aims.
Schedule posts for timely engagement
Just like on Facebook, enjoy the freedom to plan and schedule posts in advance before they reach your audience's eyes. That said, this function is only available for business accounts, which can be set when you first register, or adjusted even after your profile registration has been completed. This design endows greater flexibility for business owners with many other tasks on hand.
Include a link to boost traffic to your site
Under your brand name and your short bio, Instagram allows you to include a link that leads your audience to your main webpage! Due to the clean layout and blue font, the link would catch your audience's attention easily.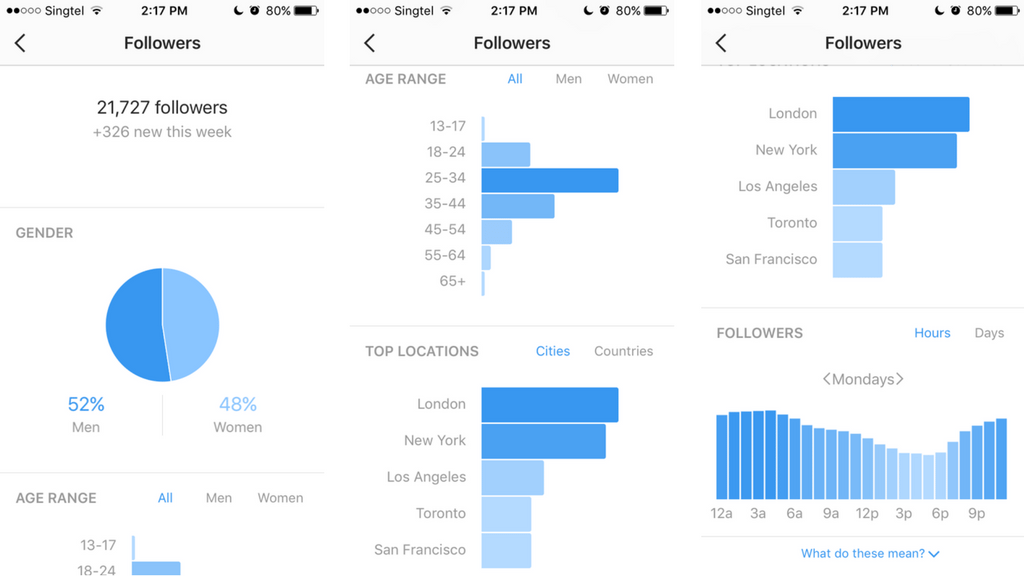 Source: https://blog.bufferapp.com/instagram-analytics
Track your performance with Instagram insights
Just like Facebook, Instagram possesses analytics tools that can assist you in fine-tuning your marketing approaches. Business profiles have access to Instagram Insights, which provides information on your engagement rate, brand awareness, traffic and sales. These telling results would advise you on the optimal target audience, posting time, and style of photos. What's more, these tools can be used on your Instagram stories as well!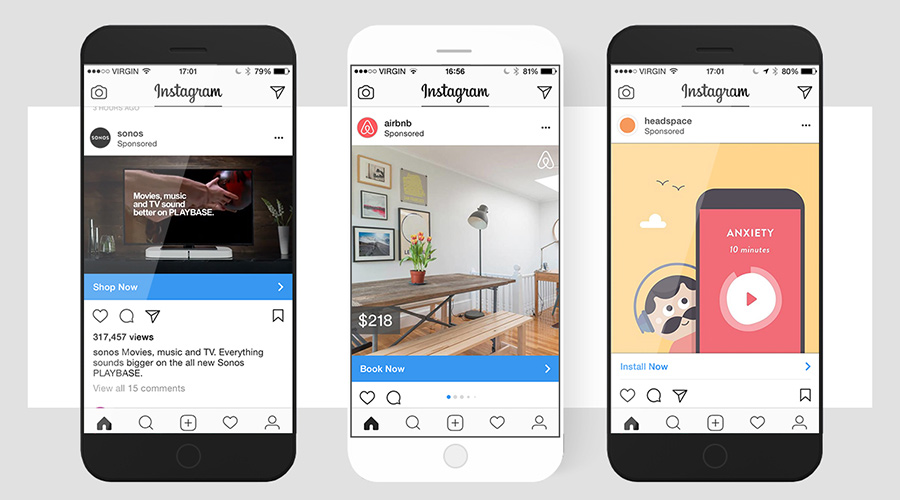 Source: http://www.kuwait-solutions.com/instagram-marketing/
Posts and stories as ads
Unsatisfied with the disabling of links for posts? Fret not. Instagram now allows you to post ads that are featured as "sponsored" content on your target audience's newsfeed. The call-to-action captions in colored banners would transport your audience directly to your webpage. Furthermore, Instagram business profiles are able to share links on Instagram stories as well! These new modifications are significantly game changers, modifying the nature of Instagram from a platform catered to personal interaction, to a growing marketplace.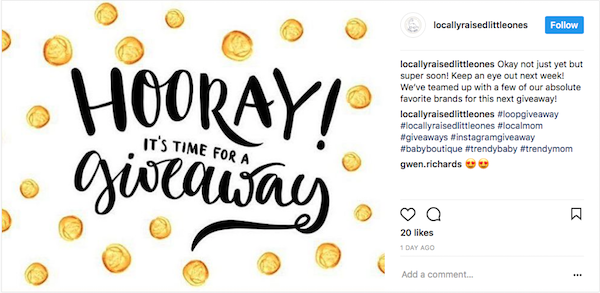 Source: https://jumpermedia.co
Conduct giveaways and promotions
Sometimes, attractive freebies work better than a thousand persuasive words. That is the principle behind giveaways and promotions. By inviting your audience to claim these real and tangible rewards, the inertia towards engaging with your brand is lowered, boosting both your brand awareness and engagement rates!
In summary
Instagram was once deemed as an unsuitable place for business owners, due to its heavy emphasis on images over text, which has severely limited its effectiveness in the dissemination of information. With the recent adjustments, such barriers have been resolved. The strategic listing of multiple links, powerful business analytics tools, and multiple placements of links and linked advertisements have transformed the nature of Instagram, from a personalized sphere to a growing commercial space that extends your reach to the younger demography.