Search Engine Marketing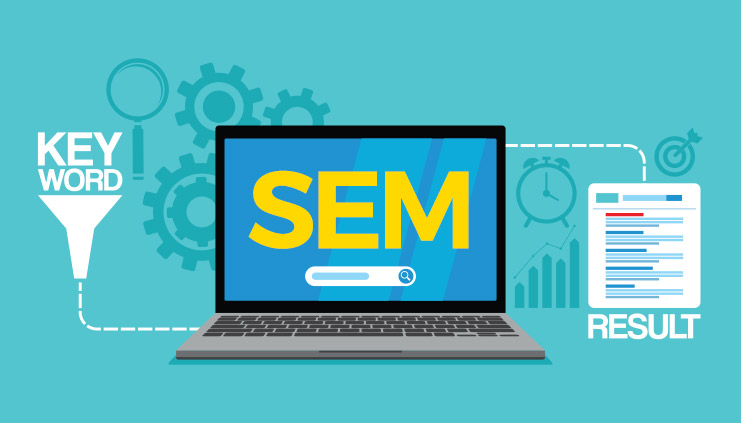 Search Engine Marketing: What Is It?
SEM is a business strategy that markets a business using paid advertisements that are featured on the search results page. Companies like yours bid on keywords that are anticipated to be used by searchers, grasping the avenue to situate their ads prominently alongside results to those search entries. Google AdWords ranks as the most popular paid search platform, followed by Bing Ads.
These ads can be created in a diversity of formats. They include small text-based ads, and visually attractive product-listing ads that display vital information such as price and reviews instantly.
Why Search Engine Marketing Can Boost Your Business
SEM allows advertisers to place their ads before the eyes of customers, at the impeccable timing when they are already motivated to purchase. This secures a much higher chance of converting hesitating audiences into paying customers. The perfect alignment of ads with the customers' impulse is what makes SEM a powerful and effective method.
The Methods In Which Search Engine Marketing Can Help Your Business
Clear Progress Indicator
The campaign analysis and success tracking endowed by online marketing allow close monitoring of your business, and thus constant improvement of your marketing strategy. A SEM campaign presents a great degree of customization, allowing you to make adjustments that cater to your website and audience. Feedback from the campaign can thus be closely observed to make prudent decisions.
Boost Qualified Leads
A SEM campaign that works well for you effortlessly converts potential audiences into quality leads! Read on to find out more about how we can make that leap in your business!
How We Convert Your Visitors Into Customers
We help you zoom in on your target audience.
Through strategic location and time planning, you can access your target group! We bring your ads to your audience's attention, with information that engages and appeals to them.
We amplify your voice.
Through adjustments of ad copies that portray your company, you can now determine what the searcher views when they read your ads. As we create your campaigns, we refer to your SEM strategy, budget and goals for strategies that work best for your company.
We boost your brand awareness
Being highly ranked on the results page not only creates a strikingly good impression, it also boasts about your content's relevance, and exposes your webpage to a wider diversity of audiences.
We usher in traffic to your website
Our suite of analytics and reporting tools keep you in the know about the sources of traffic. Moreover, we monitor your business and progress through success tracking and campaign analysis.
Contact us today for a free Search Engine Marketing consultation; Let us help you put yourself out there to start earning untapped income!